Company Image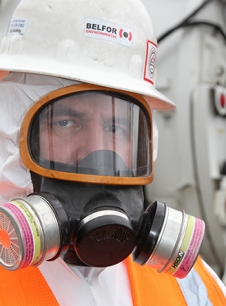 Body
BELFOR Environmental is a leading single-source provider of environmental services in the United States. From asbestos and lead removal, to hazardous waste management and semiconductor decommissioning, we have the expertise, equipment and materials to respond to virtually any environmental challenge.
We are one of few environmental service companies with a comprehensive service offering that includes HAZMAT emergency spill response, abatement, and facility and site remediation. We direct projects from assessment to closure certification.
We maintain HAZMAT and abatement licenses in most states and provide services nationally through regional environmental service offices in Colorado, Oregon, Georgia, California, Nevada, Idaho, Texas, and Arizona. We partner with BELFOR Property Restoration offices to offer unparalleled geographic coverage, capability and capacity.
Our mission is to provide tailored solutions to environmental challenges while incorporating core values of safety, efficiency and urgency.
BELFOR Environmental is a division of BELFOR Holdings, Inc., the worldwide leader in disaster recovery services. BELFOR has more than 8,000 employees in more than 300 offices in 22 countries.